2020 has certainly turned the world on its head, and with most of us in Lockdown we have taken to trying new things; baking banana bread, creating TIK TOKs and dying our hair. However, whilst there have been new crazes every week, old ways of living have been creeping back in. We're spending more time with our families (albeit over zoom), hosting quiz nights or family Olympics. We're taking our eyes from the screen and to the book, reading more or learning new skills. We're also stuck indoors…out comes the milkman!
This year, convenience has taken over; with households isolating, stores running low, and shoppers not wanting to venture far from home, it is unsurprising that online food deliveries have increased. According to Kantar, online shopping now equates to 11.5% of all grocery sales. In other words, almost one in five British households are opting for groceries delivered to the door (up 1.6 million on last year). And who saw the biggest increase in sales? Independent stores, where sales were up 63.1% by May. Incredibly, their market share reached 2.5% (the highest since 2009).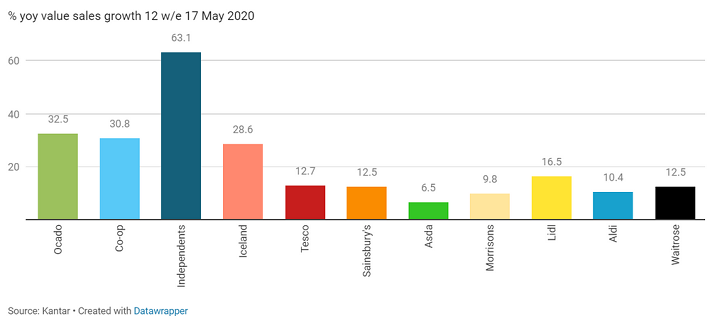 The nation is changing the way it shops and this is partly influenced by social media. 'Support Small Businesses' or 'Shop Local' are two phrases that have been floating around the social media hemisphere throughout lockdown, prompted by nearly 700,000 redundancies and plentiful time on our hands. Between July and September nearly 95,000 new businesses were created in the UK (according to Companies House Data), many of these small-scale, from the home. I know this all too well, having invested in a Cricut machine myself, and beginning to sell my crafts to friends and family. This resurgence has changed how the British Public shop; according to YouGov, 63% of people are making a direct effort to buy local products, and its helped by the trusty corner shop failing to run out of toilet rolls!
We've touched on new trends and businesses, however us Brits love tradition, and tradition is making a comeback. What better way to shop local, whilst avoiding leaving your home than the new and improved milkman? The milkman has been around for decades, dropping milk at your doorstep in elegant (and environmentally friendly) glass bottles. Back in the 1980s, 94% of milk was put into glass bottles, and the nation would 'leave out their empties' to be collected and reused. Some say this was the first understanding of recycling! However, in 2012 only 4% of milk was stored this way; plastic containers are cheaper to make and transport, and thus convenience and cost had won. Back to 2020; with the desire for convenience, supporting local business and being environmentally friendly, it's a no brainer that the milkman is gaining popularity! Companies such as Milk and More, and The Modern Milkman, have pushed this old-aged tradition back into the limelight. Milk and More have the philosophy of encouraging people to eat well and live sustainably, and they do so by using smaller suppliers. It even says on their website:
"Deeply rooted as a British Icon, we strive to continue both the milkman legacy and its expansion".
It's not just milk these days either; Milk and More offer everything from dairy and bakery to compost, washing up liquid and reusable cups, all delivered on electric milk floats (an even bigger boost for the environment!).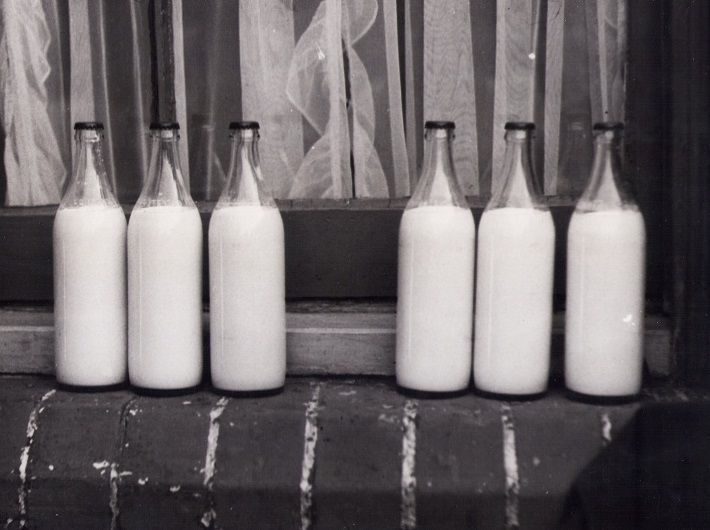 Popping in my postcode, I'm informed my local milkman is Brian, and this personal touch brings back that sense of community the milkman supported- historically, the milkman would deliver the milk and be invited in for a cup of tea! This sense of community in a world where we even have to socially distance from our parents, is incredibly important.
Whether lockdown has people reminiscing of the 'good old days' or the hipster generation now acknowledges the environmental benefits, the milkman is coming back. They have modernised, reborn into a world that is not like we have known before. Offering local goods, that are packaged and delivered in an environmentally friendly way, and by a smiling milkman, it's a welcome positive in the midst of a pandemic. I believe it will be a welcome positive that will withstand the test of time; as a nation, our outlook has changed through Lockdown- from wearing masks and socially distancing to shopping locally. Hopefully this 'old trend' is one to stay.
Kate McGoldrick, Communications Officer at Geolytix
Image: Photo by Gustavo Fring from Pexels