Since 2004, average house prices in Enfield have doubled, with property prices still 25 – 30% lower than the London average.  I wasn't aware until I moved that 'everything was on my doorstep' – within 5 minutes I can get to 4 of the top 5 supermarkets, B&Q (came in handy for house renovations), the park, the cinema and a trampoline park. Without leaving my car I can pick up a McDonalds with a Krispy Kreme for dessert (I'm not kidding, a Krispy Kreme drive thru!). It's a stark contrast to my home town of Brighouse which still has Sunday closing.
Palace Shopping, a 14,000m2 centre opened in 2006, making Enfield more of a destination, with residents only having to travel further for a Primark or John Lewis. This may have contributed to the half a dozen prominent units now standing empty on the main high street.
Enfield Town is changing. In the last 12 months 5 well known high street names have closed – Mothercare, Oasis, Dorothy Perkins, Bennetton and Thorntons. All is not lost – Pearsons the department store has continued to update, include new brands and is performing well (latest sales up 1.7% to £19.2m).
According to our retail places product, Enfield Town has ~200 retail units, less than 20% of which are food & beverage, lower than similar ranking towns.  Enfield Town have recently released their Master Plan for the future, which focuses on the need to strengthen the evening economy,  which they hope will come about by cafes, leisure and restaurants occupying the vacant units on Church Street,  strengthening the links between the Eastern and Western side of the town.
Enfield Town has a high, growing population – an estimated 5,596 people live within the town itself (Geolytix forecast population within the Geolytix locale boundary), up 24% from 2011. It's therefore maybe surprising that the high street giants are closing- Enfield has a strong local community and some fear that rising rents and car park charging is not helping the town. However, Enfield isn't alone. For example, Mothercare had a presence on the majority of high streets with ~400 stores in 2000. They now have only ~150, with plans to close up to another 70, as 41% of sales have moved online. Next and Boots are 2 brands that have opened on the nearest retail park to Enfield town centre but kept their high street presence.
Geolytix Locale Boundaries for Enfield and the surrounding area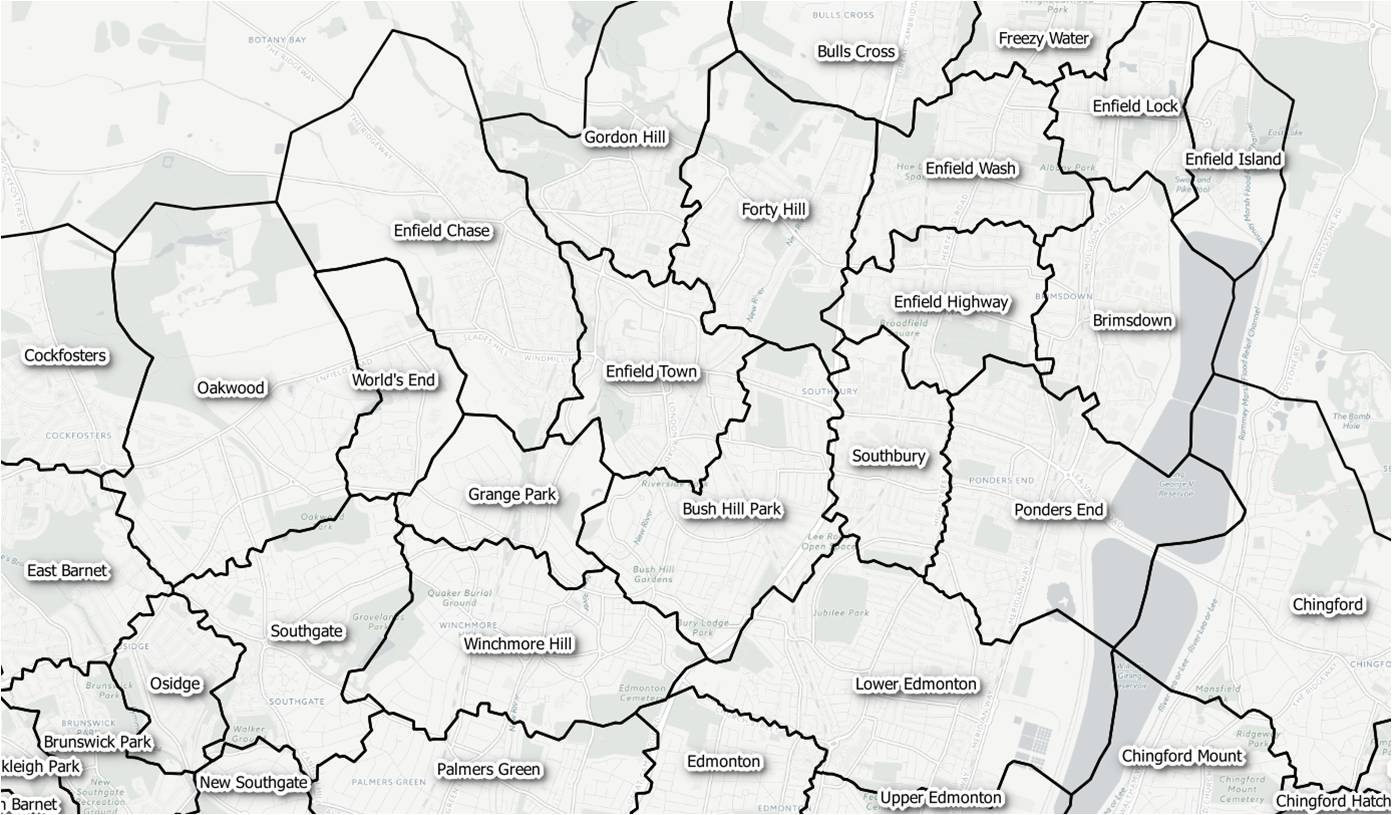 What else is happening in Enfield Town? Beauty continues to thrive – Champneys and Toni and Guy are joined by Rush and independent Lillys. Coffee shops, unsurprisingly burst at the seams, giving opportunities for independents: Malone & Co, located off the main high street uses social media, word of mouth, great service and great food to drive business. Art Town combines a café, live Blues and Cuban music and music shop to create a successful venue for day and night. Stantons Coffee shop has opened in Bush Hill Park by 2 brothers passionate about bringing the central London coffee culture 'up North'.
Retailers from abroad are giving Enfield a chance; Deichmann clothing and Smiggle have both opened over the last year.
Different, and dare I say it more interesting stores are popping up. Fresh Trader has opened, a Costco for the high street and the latest opening is Meat EN2.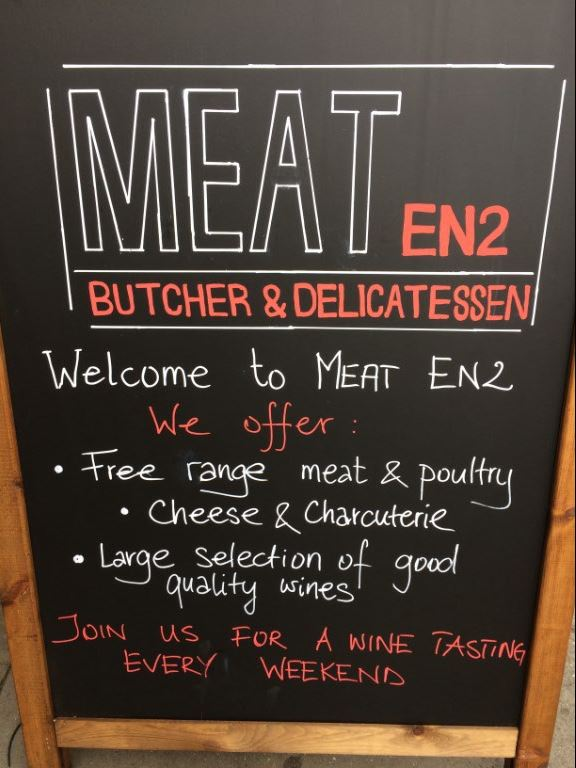 Meat is an independent butchers, delicatessen and wine store that tested out Enfield by firstly selling from its market. The shop is eclectic and enticing (even to a vegetarian!). On the Sunday I visited there was a buzz created by the 4 staff, who make all the in-store sausages and burgers from free range British meat. Wine and cheese tasting created a theatre and an atmosphere that you wouldn't expect from a typical high street butchers.
Enfield is the third store to open, with their first two in Stoke Newington and Tuffnell park. They acknowledge that Enfield is different – Stoke Newington is Local through and through, filled with independent shops, a population with higher disposable incomes and there was uproar when Sainsbury's tried to open in 2013. However, the Enfield store is located on a more prominent high street with higher footfall and early signs are promising.
As with other towns across the UK, the mix of retail is moving away from the traditional high street chains towards independents, meaning rents may eventually have to fall. Hopefully the community of Enfield can support Fresh Trader, Malone & Co and Meat EN2, enticing other businesses to open and occupy the vacant units along the high street, securing the future of the town.